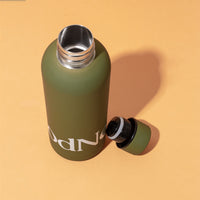 You are asking us a lot about the Rubber Bottle Green, here it is, the instructions are simple, you can put water, tea, Good Coffee, anything except bubbles. In other words it's a Still Bottle, the GAS doesn't like it.
PRODUCT DESCRIPTION:
500ml capacity double-walled bottle
Green rubber finish
You can put water, coffee, tea, everything except carbonated drinks. (no bubbles)
It maintains the temperature.
GOODNEWS, GOOD COFFEE FOR GOOD PEOPLE
This goes much further than just good coffee. We are a young brand-loving community with a good mission, an innovative and healthy product, lovers of sharing and living life with a smile. We can't tell you how your day starts, but we can tell you what we can turn it into: A GOOD DAY!
Much more than Good Coffee
Good Coffee is much more than good taste. It is also good vibes, and it is a commitment to current and future generations of coffee pickers. At GoodNews we develop good practices in the cultivation of our coffee, promoting responsible and sustainable agriculture. We are aware of the human chain from the time the coffee is harvested until it reaches your hands.