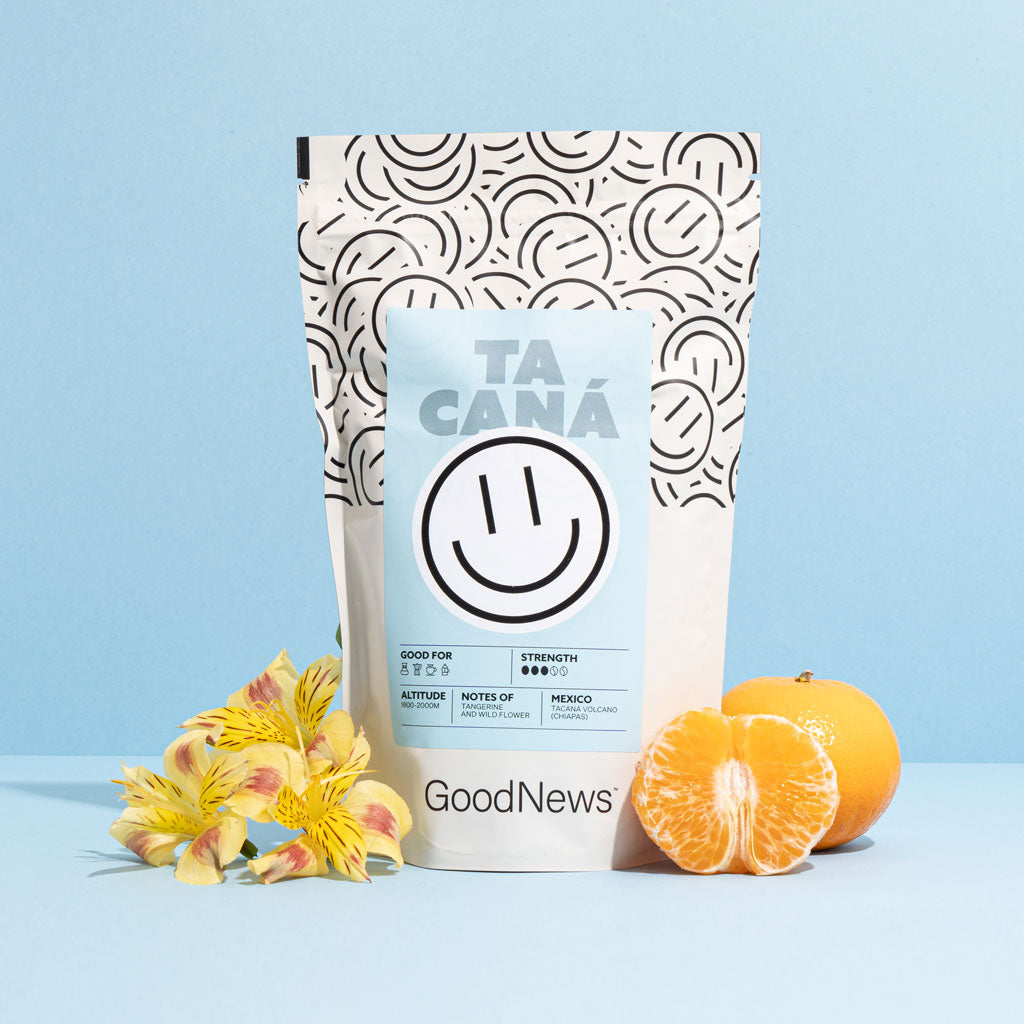 100% Arabica coffee from the communities of Chanjalé, Chespal, Salchiji, La Soledad and Pavencul in the Tacaná region of Mexico. Cultivated in the traditional way, without pesticides or herbicides and in the shade of native trees, this coffee has a flavor of tangerines and floral touches, a fresh and citric aroma, it is the perfect coffee for both filter and espresso.
Tacaná is our selection of the most volcanic origin. The coffee plantations where this variety is grown are located at the foot of the Tacaná volcano, in the state of Chiapas.
good for
variedad
Bourbon y Typica
finca
Comunidades del Tacaná
Let's change coffee for good
FRIENDLY REMINDER, there is no single path to fair and child labor-free coffee. From the Good News team, we adhere to sourcing standards that guarantee progress towards our ultimate goal. To eradicate child labor in the coffee industry once and for all. Let's get down to business!

1. End-to-end traceability.
Firstand foremost, we're not big on long-distance relationships.
We like to have you close to us and our Good Coffee even more. FIRST STEP, getting as close as possible to the farms where our coffee is grown and establishing relationships with the farmers, guaranteeing good social and environmental conditions during its cultivation.
2. Commitment to rural coffee-producing communities.
Wedo notlike the easy way out.
We seek out and identify coffee growers that have traditionally been excluded from the global coffee value chain. Working hand in hand with these communities allows us to empower small farms and cooperatives, thus helping to generate a more balanced industry between large and small coffee growers.
Collaborative price negotiation. We get in where we are called.
We are committed to talking directly with farmers and cooperatives to negotiate and establish optimal working conditions that facilitate development. We opt for direct purchasing to ensure Good Vibes from start to finish.
4. Long-term relationships. Good Vibes today and tomorrow.
One of the great vulnerabilities of coffee producers is the volatility of the market price. For our part, we commit ourselves for a minimum period of six years (two life cycles of a coffee plant) to guarantee financial security.

Much more than Good Coffee, isn't it?
Discover the new varieties